Jaw-Dropping Celebrity Private Jets & Yachts
(Did you know?)
9 months ago
When someone makes a fortune on a regular basis, living a luxurious lifestyle is a piece of cake. Many famous actors and singers live like kings and queens, and you guys will surely get envious when you take a sneak peek into their lives. These people live in enormous mansions and if that wasn't enough, they can afford to buy a luxury yacht or plane or two. They seem to travel for work or pleasure a lot so having one just makes their life easier. Let's take a look at some very popular names we know who are plane/yacht owners!
Angelina Jolie, Net Worth: $100 Million – Cirrus SR22, Estimated $650K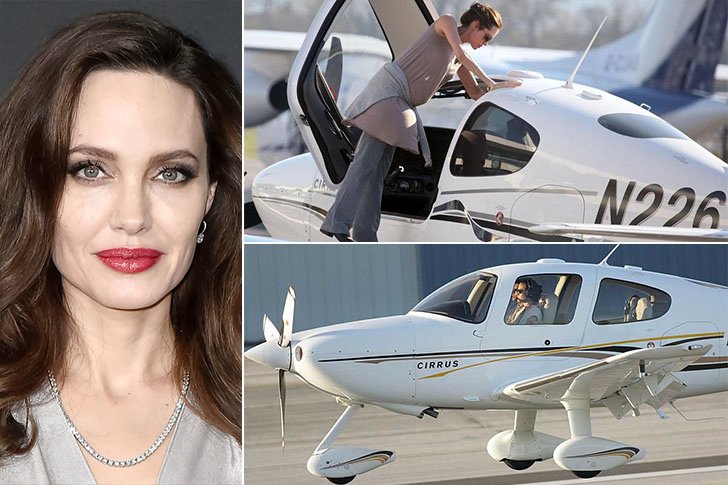 .
Angelina Jolie has been in the industry for many years already, so by now, she has a massive fortune in the bank. Jolie is actually a licensed pilot and has her very own plane to take for a ride. She owns a Cirrus SR22 which is estimated to be worth around $650K. We're sure the plane comes in handy whenever the traffic gets really bad everywhere. The 43-year-old Jolie is set to star in a Maleficent sequel, Maleficent: Mistress of Evil, which will be hitting cinemas in October 2019.
Bono, Net worth: $700 Million – Kingdom Come, Estimated $22 Million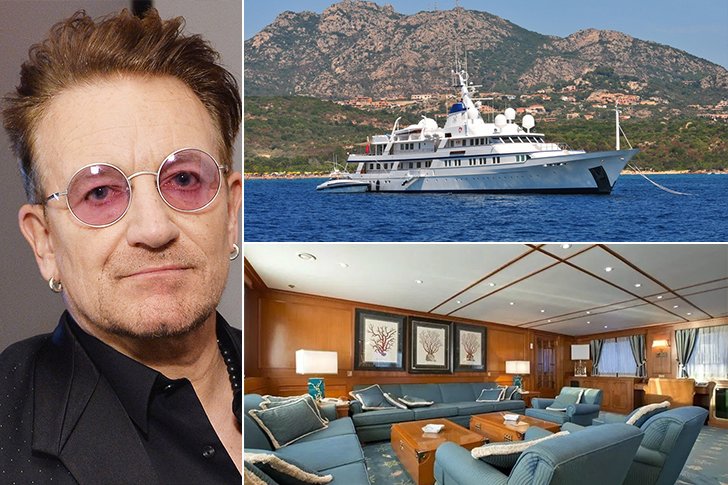 .
Bono is best known for his success as the frontman of U2. Aside from having his very own plane, he is also a proud owner of a massive 198-foot private yacht. His yacht is called the Kingdom Come, and owning it will cost you around $22 million – not that Bono is selling. The yacht has a lavish interior that almost makes it feel like a mansion. At least fifteen guests can board the vessel. Bono still performs with U2 these days and was very busy with their Experience + Innocence Tour back in 2018.
Mariah Carey, Net worth: $300 Million – Gulfstream, Estimated $40 Million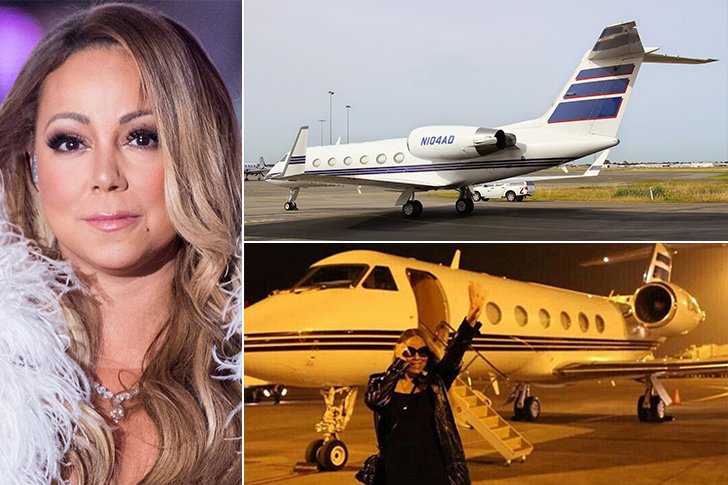 .
Mariah Carey often travels the world because of her concert tours. And as you can see above, she often flies in style. Carey often rode a private jet when she was still married to Nick Cannon, and she even always took photos of it. The Gulfstream she flies in is said to be worth around $40 million. When Carey was still dating billionaire James Packer, he actually allowed her and her team to use his jet. Although, Carey can easily afford her own jet since she is a very wealthy woman. Back in 2018, Carey released a new album titled Caution.
Arnold Schwarzenegger, Net worth: $400 Million – Gulfstream III, Estimated $35 Million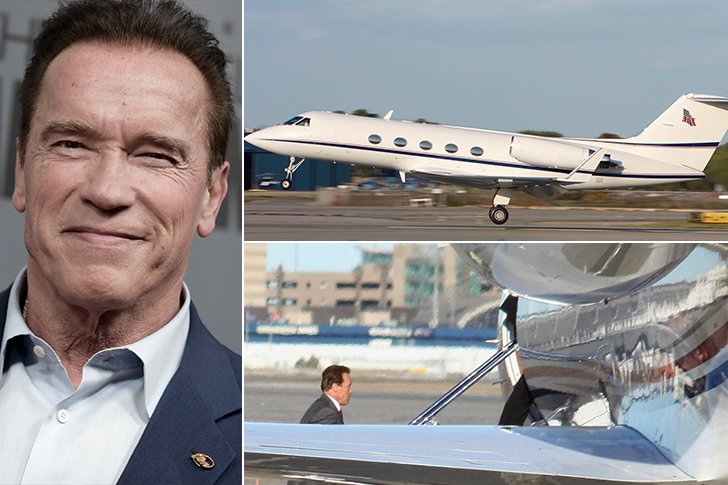 .
Back in 2007, Austrian-American actor, politician, and former bodybuilder Arnold Schwarzenegger made a huge investment and bought his very own plane. The former Governor of California got a Gulfstream III which is estimated to be worth around $35 million. Schwarzenegger apparently used the plane to travel back and forth between Sacramento and Los Angeles. Whenever Schwarzenegger traveled, all the expenses came from his own fortune and not from what he made as California's Governor. Now at 71 years old, he is still far from retiring from the limelight. In 2019, Schwarzenegger will be starring in Terminator: Dark Fate.
Michael Jordan, Net worth: $1.7 Billion – Gulfstream IV, Estimated $35 Million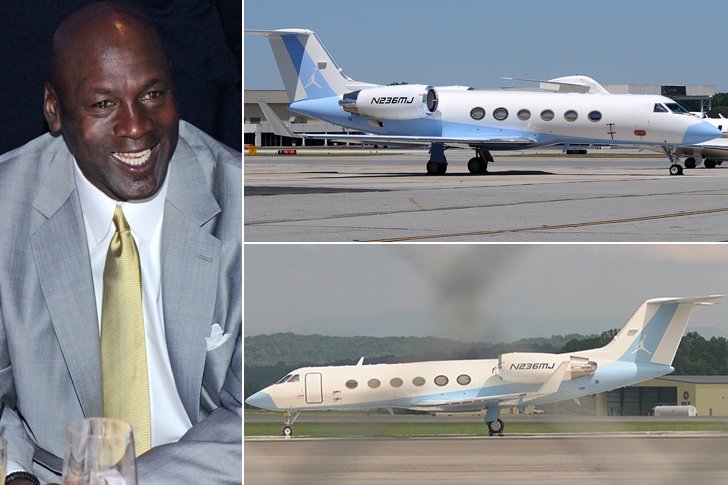 .
Michael Jordan is a living legend in the NBA scene. He enjoyed a wonderful career with the Chicago Bulls, but he also played for the Washington Wizards for two years. Jordan is an owner of a Gulfstream IV jet. You can easily tell that it's his because he made an extra investment and had his iconic "Jumpman" logo placed on the jet's tail. The N236MJ you see on the jet stands for Jordan's jersey number, championship wins, and initials. Jordan boasts a fortune estimated at $1.7 billion and is among the wealthiest African-Americans in the world.
Taylor Swift, Net worth: $400 Million – Dassault Falcon 900, Estimated $40 Million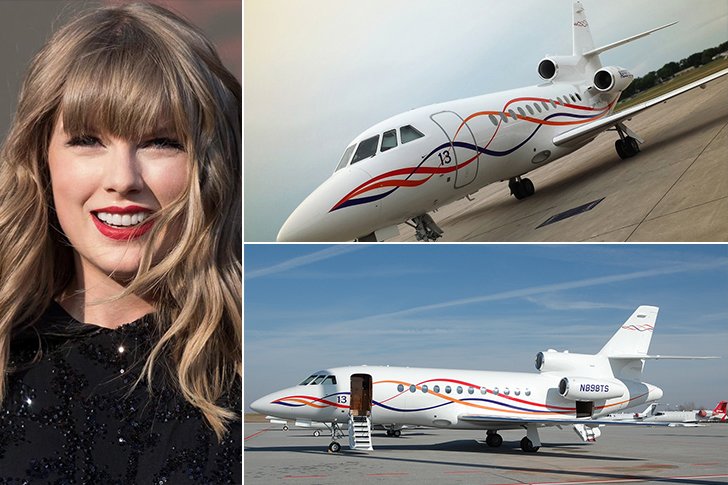 .
You might not really be surprised that Taylor Swift has her own private plane because her singing career really makes her go around the world. Swift actually has two Dassault Falcon planes, which are estimated to be worth around $40 million. Photographed above is her Falcon 900 which, as you can see, has the number thirteen painted on the outside. That number is reportedly her favorite one. This plane is used for her long flights while her Falcon 50 is for short flights. Swift is set to star in the upcoming Cats movie.
Dwayne "The Rock" Johnson – Net worth: $25 Million -Gulfstream G650- Estimated $65 Million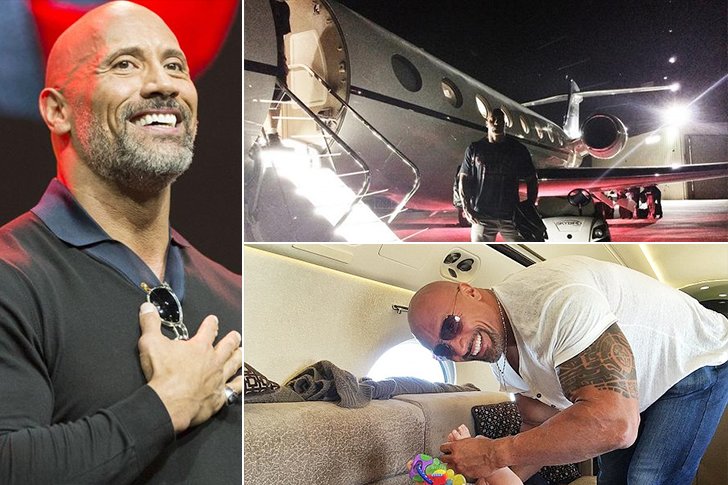 .
Dwayne Johnson is fast becoming one of the highest paid men in Hollywood. Never shy of a little hard work, The Rock is overtaking stars like Robert Downey Jr. and Vin Diesel with annual earnings creeping up to $65 million. What we love about the guy is that he likes his toys and when we say toys, we mean a Gulfstream 650 private jet, though it's unclear if he owns or rents, though he could well afford it. He posted a pic on Instagram recently, of himself changing his daughter's nappy, he's clearly a man with his priorities in the right place.
Roberto Cavalli, Net worth: $500 Million – Roberto Cavalli, Estimated $40 Million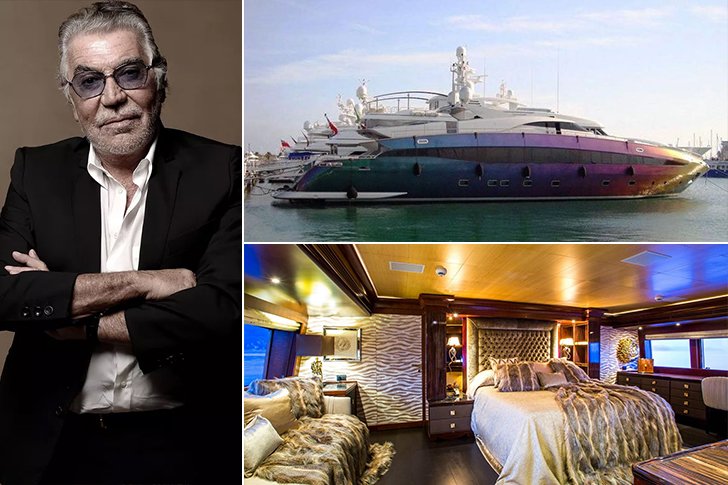 .
Roberto Cavalli has become such a wealthy man over the years because of the success he achieved in the luxury clothing scene. As of 2019, Cavalli is estimated to be worth around $500 million. Cavalli owned a yacht called the Roberto Cavalli, built for him by Baglietto. It was definitely a unique one because of its rainbow paint job. The inside of the yacht was beautiful and the furniture he used made the yacht feel like a luxurious mansion. The luxury vessel is about 134 feet and is estimated to be worth around $40 million.
Eric Clapton, Net worth: $300 Million – Va Bene, Estimated $12 Million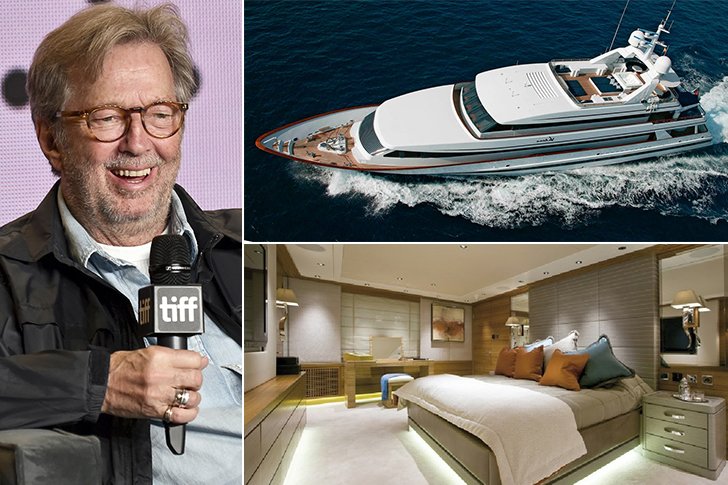 .
Eric Clapton is best known for his time with Cream and the Yardbirds, but he also made a ton of money as a solo artist. Clapton once rented a lavish yacht called Va Bene, but he fell in love with it so he later just bought it for himself. The yacht is said to be worth around $12 million. Measured at about 156 feet, it can fit around twelve guests. The interior of the yacht is just amazing and it makes anyone who's inside of the vessel feel like they're in a 5-star hotel. Back in 2018, Clapton released a new album titled Happy Xmas.
Neymar, Net worth: $185 Million – Cessna 680, Estimated $10 Million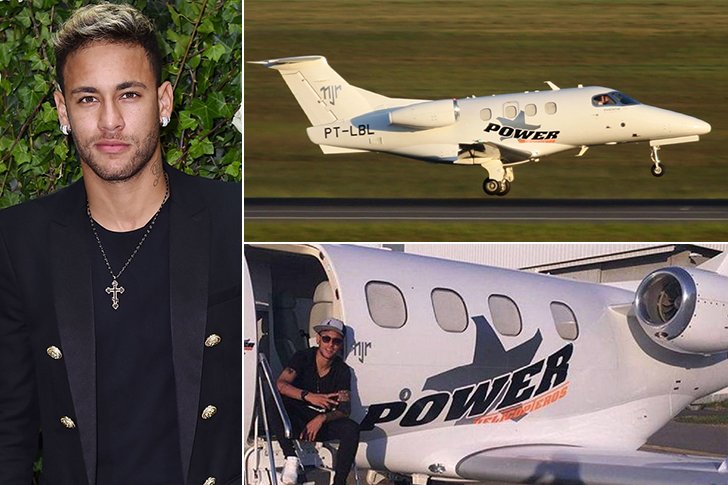 .
Neymar is a soccer star who is best known for his stints with the Brazilian national team and his time with Barcelona F.C. Since 2017, he has been playing for the Paris Saint-German football club. Neymar is among those footballers who rake in the most earnings, so he truly gets to enjoy the best things in life. For his travels, Neymar has a Cessna 680, which is estimated to be worth around $10 million. The plane can fit around twelve passengers and is customized with comfortable white leather seats. Neymar reportedly bought the same plane twice because his first one was part of his assets that got frozen at one point.
Justin Bieber, Net worth: $265 Million – Gulfstream G4, Estimated $60 Million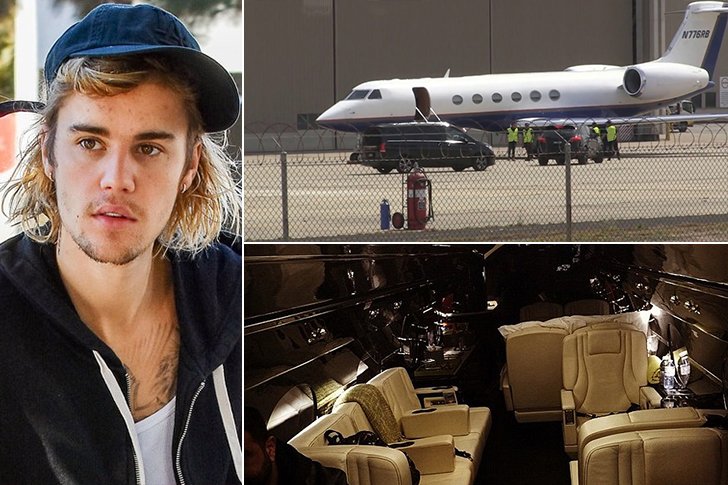 .
Justin Bieber started making money at a very young age. So these days, he already possesses a massive fortune. Bieber's popularity makes it very hard for him to be in public places, so using a private plane is just right for him. Whenever he needs to travel, he hops on a Gulfstream G4, which is said to be worth around $60 million. The interior of the plane is very cozy so he can definitely endure very long flights. Bieber tied the knot with Hailey Baldwin back in 2018, so we're sure the plane will come in handy when they want to go on vacations as a couple.
Jim Carrey, Net worth: $150 Million – Gulfstream V, Estimated $59 Million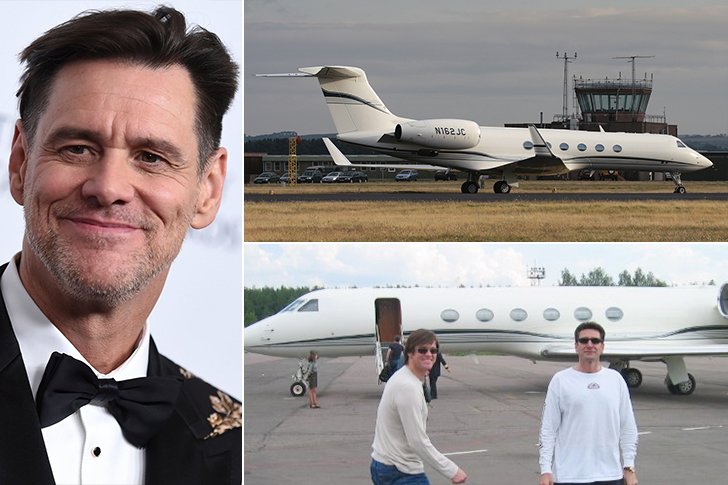 .
Jim Carrey is a funny actor who is best remembered for the performances he gave in Man on the Moon,  Ace Ventura: Pet Detective, and The Mask. Carrey is yet another actor who decided to invest in a private jet. Sources say he spent around $59 million for his beautiful Gulfstream V jet. The jet can fit around sixteen passengers. Whenever Carrey is not using the jet, people can actually charter it for $8K an hour. In 2019, Carrey will be starring as Dr. Ivo Robotnik in the new Sonic the Hedgehog movie.
Beyonce & Jay-Z, Net worth: $1.4 Billion – Galactica Star, Estimated $70 Million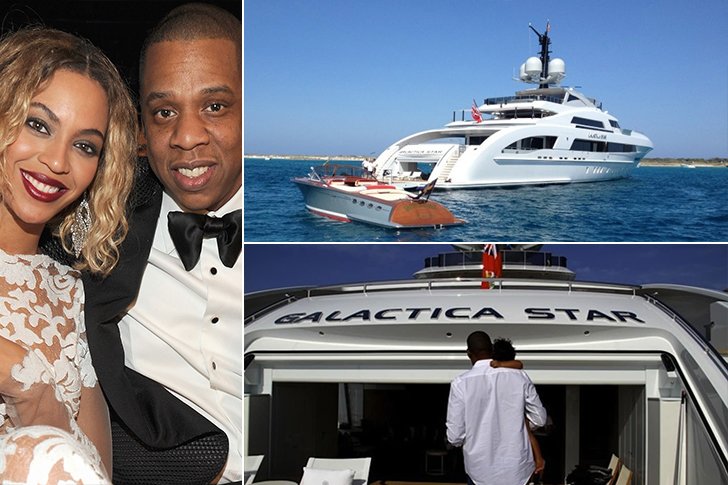 .
Beyonce and Jay-Z are very successful as individuals. And since they are married, their joint fortune just allows them to afford anything they want. The couple works really hard, but they also know how to rest and take a vacation when they want to. Whenever they want to go on a tropical getaway, they can board their favorite luxury yacht called the Galactica Star. The yacht is about 213 feet and reportedly cost its owner, a Nigerian oil tycoon, a whopping $70 million to purchase. Back in 2018, Beyonce and Jay-Z released a joint album titled Everything is Love and was busy with the On the Run II Tour.
Giorgio Armani, Net worth: $9.6 Billion – Main, Estimated $60 Million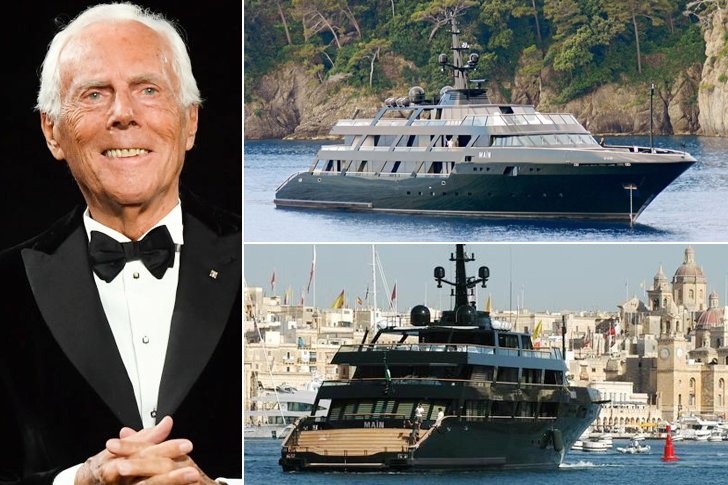 .
By now, it's safe to say that most people who find success in the luxury clothing scene like buying themselves a luxury yacht. Giorgio Armani is another successful designer who owns a yacht. His black-painted yacht is called the Main and is worth around $60 million. It actually took more than two years for the yacht to be built. Around twelve guests can be accommodated in the vessel. The yacht comes with its own cinema and gym. Armani is already 84 and is living such a good life because he currently boasts a $9.6 billion fortune.
Michael Schumacher, Net worth: $800 Million – Falcon 200, $22 Million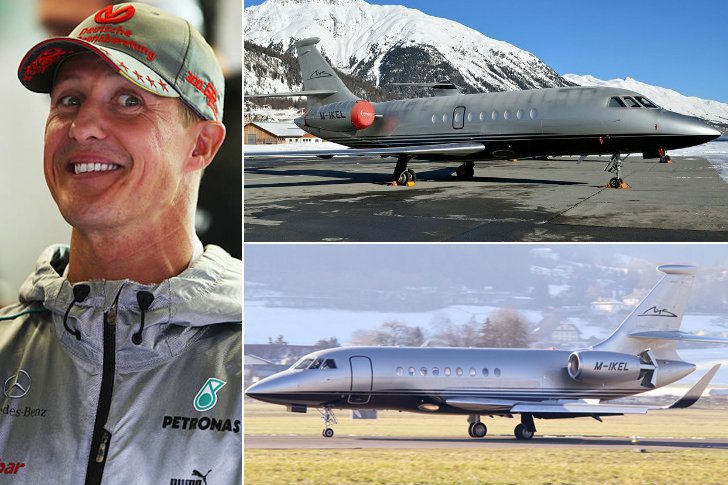 .
Michael Schumacher is a successful racing driver who made a fortune thanks to all the wins he had in his career. He had a total of 91 wins in his career, but he has been in retirement since 2013. Schumacher is the proud owner of a Falcon 200 jet, which is said to have cost him around $22 million. The jet has a lavish interior but it can only fit up to nine passengers. Since he is worth $800 million these days, we're sure he can upgrade to a bigger jet if he needs to.
Bill Gates, Net worth: $96 Billion – Bombardier BD-700 Global Express, Estimated $40 Million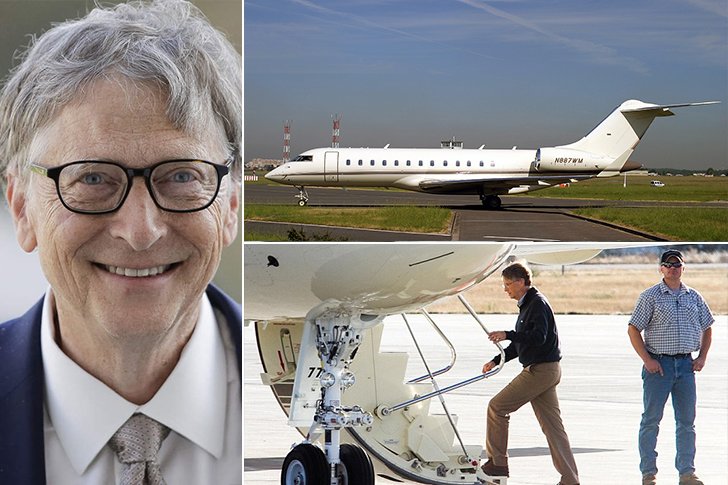 .
Bill Gates, who is the founder of Microsoft, is one of the wealthiest people in the world, so having his own plane is just normal for him. Gates owns a Bombardier BD-700 Global Express which is worth around $40 million. As you may have already assumed, his plane is equipped with the latest technology available. Gates enjoys having Wi-Fi and a number of screens inside the plane. We bet he never really gets bored during very long flights. As of today, Gates' fortune is already at $96 billion. He is said to be the second richest person in the world in 2018 according to Forbes.
source : carsandyachts