20 Celebrities You Never Knew Were Lebanese
You probably have heard their names more than a few hundred times. Actors, Singers, Producers... they have managed to reach a high position in life with their talents. But did it it cross your mind that they actually hold besides their inner talent, roots to the land of Cedars? 20 celebrities happen to be originally Lebanese, and we here by list their names! Share with us your favorite among them and add your own on Beiruting.com
1-Jenna Dewan-Tatum


Best known for her work in the movie Step Up and being married to the beautiful man known as Channing Tatum, Jenna Dewan's father is of Lebanese-Polish descent and her mother is of German-English descent. Now that is quite the exotic mix!
2-Vince Vaughn




Yes, the Wedding Crashers star has Lebanese roots and they come from his paternal grandmother. Vaughn's grandmother actually comes from the Saba family of Innabet. Do you know anyone from there? Akidddd you do.
3-Zoe Saldana




The sexy Avatar starlet was born in the Dominican Republic, but has admitted to MBC that she is part Lebanese and enjoys Lebanese cooking. Sa7ten!
4-Casey Kasem




This name may not sound familiar to you, but you would recognize his voice! Casey Kasem was actually the voice of Shaggy in Scooby Doo! Sadly, however, Kasem passed away in June 2014. RIP Shaggy.
5-Wentworth Miller




His name may not sound Lebanese, but the Prison Break actor is actually of Syrian and Lebanese descent mixed with African American blood.
6-Ralph Nader




This guy ran for President of the United States 7 TIMES and will be running for the 8th time in 2016 for the Green party, as usual. Nader was born in Connecticut to Lebanese immigrants and was raised to speak both Arabic and English.
7-Shakira




Shakira Mebarak was born to a Lebanese father and a Spanish-Italian mother and my guess is that she gets her hot dance moves from the Lebanese side of the family. W yallaaaaa!
8-Rima Fakih




Speaking of beautiful Lebanese women, here is one who actually won the Miss America Pageant in 2010. Fakih was born in Lebanon but moved to the States when she was 8 years old.
9-Salma Hayek




It's kind of difficult to forget that Salma Hayek is Lebanese, well because her name gives it away but that's besides the point; the point is that LOOK AN ACADEMY AWARD NOMINEE IS LEBANESE, LOOK! YA MAMA TA3E!!!
10-Mia Khalifa
The Lebanese American born in February 10, 1993, is also known as Mia Callista. She is a Lebanese American pornographic actress and adult model.
11-Amal Alamuddin
Known also by Amal Clooney, Amal was born on February 3rd 1978. She is a London-based British-Lebanese lawyer, activist, and author, and the very proud Mrs.Clooney given that she captured one of Hollywood's rebels, Actor Georges Clooney.
12-Mika
Born Michael Holbrook Penniman on August 18 1983, MIKA is a British singer and songwriter, 3rd born of a Lebanese mother and an American father in the Lebanese capital Beirut.
13-René Angélil
Rene was born on January 16 1942 and died on January 14 2016. Born to a Lebanese mother and Syrian father, Angelil was a musical producer, talent manager and singer. He was the manager (1981-2014) and the husband (1994-2016) of Canadian Diva Celine Dion.
14-Juliana Awada
The Argentine businesswoman is of Lebanese and Syrian descent and was born on April 3rd 1974. She is the First Lady of Argentina, married to the President of Argentina, Mauricio Macri.

15-Paul Anka
Anka's father Andy and his mother Camelia were Canadian-Lebanese from the town of Kfarmishki, in Lebanon. He was born on July 30, 1941, and is a singer, songwriter, and actor who shined between 1950s and 1970s.
16-Omar Sharif
Born on April 10th 1932 in Alexandria, Omar Sharifwas born as Michel Dimitri Chalhoub to a Melkite Catholic family of Lebanese descents. He was well known for his role as Dr Zevago and died on July 10th 2015.

17-Tony Shalhoub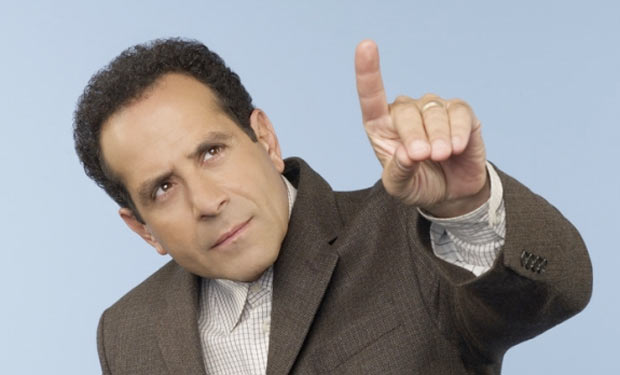 Anthony Marcus Shalhoub was Born October 9, 1953 to Joe Shalhoub from Lebanon and Helen, a second-generation Lebanese-American. His television work includes the role of detective Adrian Monk in the TV series Monk, for which he has won a Golden Globe Award for Best Actor.
18-Massari
Sari Abboud was born December 10, 1980. Better known by his stage name Massari, he is a Lebanese Canadian R&B/pop singer. His music combines Middle Eastern melodies with western culture.
19-Karl Wolf
Born Carl Abou Samah on April 18, 1979, he is better known by his stage name and is a Lebanese-born Canadian musician based in Montreal, Quebec, Canada.
20-Serj Tankian
He is a Lebanese-born American singer-songwriter born in August 21, 1967. Serj is a composer, multi-instrumentalist, record producer, poet, and political activist. He is best known as the lead vocalist, songwriter, keyboardist and occasional live rhythm guitarist of the rock band System of a Down, formed in 1994 by four Armenian-American friends.